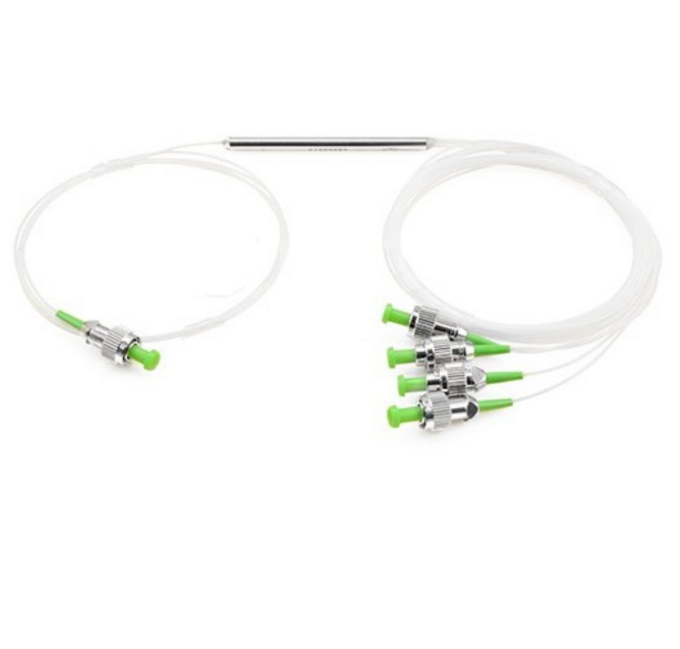 Optical Splitter 1×4 Steel Tube Single Mode FBT Fiber Optic Splitter FC/APC connectors
Free Optical Splitter 1×4 FBT fiber splitter Sample
Single, Dual, Three Wavelengths for Options
SC FC LC ST or other Customized Connectors
Low Insertion Loss & High Return Loss
Plastic Module Package for Safe Protection
Different Fiber Cable Diameters Supplied
Teleweaver P/N:

#FBT14-S-FC-A

Product ID:

#1587
Get Best Quote & Free Sample
Free sample(s) will be sent in 1-3 days usually.
Introduction to FBT Fiber Splitter 1x4
Optical Splitter 1×4 Steel Tube Single Mode Fused Type Fiber Coupler FBT Fiber Optic Splitter with FC/APC connectors is a widely used Fiber splitter. You can use it to be inserted into a LGX box or ABS box. This optical splitter can be also coming with other fiber connectors SC LC ST etc. Usually Dual window 1310/1550nm are available in stock.
FBT Fiber Splitter 1x4 Features
Low Insertion loss
Good channel-to-channel uniformity
High Reliability and Stability
Excellent Environmental Stability and Widely Used
Length: 1m
Working wavelength: 1310~1550nm
Insert loss:6.8dB
Return loss: 50dB
Wide Operating Temperature: from -40°C to 85°C
FBT Fiber Splitter 1x4 Application
FTTH, LAN, PON & Optical CATV
Local ring net, Optical fiber communication system
Optical fiber test equipment, Optical fiber sensor
FBT Fiber Splitter 1x4 Specification
Input & Output
1 to 4 FBT Fiber Optic Splitter Optical Splitter 1×4
Fiber Type
9/125 SMF-28 or customer specified
Operating Wavelength (nm)
1310,1490,1550
Coupling Ration (%)
1-50%
Bandwidth (nm)
20nm
Typical Insertion loss (dB)
≤7.2
Polarization Dependent Loss (dB)
≤0.1
Homogeneity (dB)
≤0.9
Directivity (dBm)
≥60
Uniformity (dB)
0.5
Typical dependent loss (dB)
≤0.15
Temperature Stability (dB/ºC)
≤0.002
Operating Temperature (℃)
-40 ~ 70
Storage Temperature (℃)
-40 ~ 85
Fiber Cable
bare fiber,
loose tube fiber
Fiber Connector
SC FC LC ST
Trademark
Teleweaver or Customized
Lead Time
5 days for 100pcs, 10 days for 800pcs
MOQ
20pcs
Send Inquiry Now
Please feel free to contact us if you are looking for FREE sample for this , We will get back to you within 6-12 hours.